Hello beautiful people! Today I'm gonna be giving advices on how to stay clean and fresh during your period! Because I know that allot of females out there struggle with staying fresh 'cause you know when you're on your period you feel dirty, yucky and smelly, so I'm gonna give you all some advices on how to stay fresh all day!
Being on your period can be very annoying, especially when it comes to using pads / tampons and changing them regularly. Also all of the cramps and cravings that we get in that moment. Generally, a period lasts between three and seven days. A menstrual period that lasts more than seven days is considered a long period. And between these days, we have to stay clean and take care of ourselves even more. We wouldn't want to smell blood at all!
Change your pad or tampon:
My key advice on this to stay fresh is to make sure that when you're on your period, especially within the first one to three days when it's the heaviest, you change your pad or tampon every 2 hours ATLEAST. Because in those days your period is gonna be flowing a little bit extra heavy you know and she coming out like water like *WHOOSH WHOOSH WHOOSH*. So yea, make sure to be changing your pad or tampon every 2 hours just because you wouldn't want to be sitting in the same pad all day. That's not sanitary at all! And when you're sitting with your pad for too long, that's when the odor comes in and it starts to get smelly and gushy and truthfully for me that's very uncomfortable!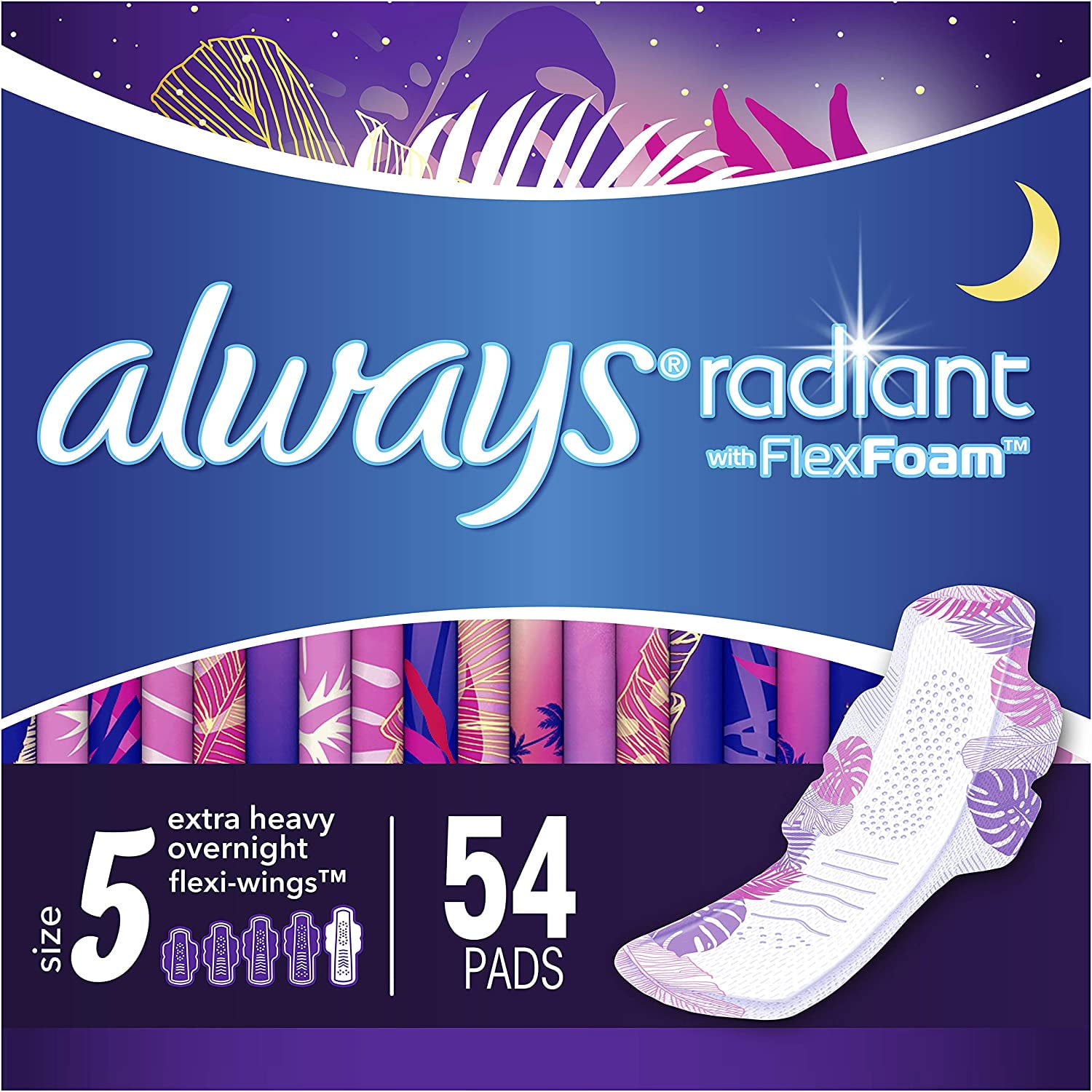 The pads that I recommend to use are the "Always Radiant Feminine Pads" Or just pads that have wings just because you can fold them up and they stick to your panties. So you know that they are secure and it ain't gonna move at all! These are the ones I use and it's honestly super good and I feel secure of myself because I know that the pad is not gonna move and go nowhere.
Baby wipes:
My second tip is that you're carrying around baby wipes with you. You guys will wonder "Why baby wipes thought?" Well because if it's safe for a baby, it's safe for you and make sure that they are fragrance free, gentle, alcohol free and that they have no sense and no perfumes in it because you don't wanna have all that stuff in a wipe that you're putting down there, we don't want no infections, no yeast infections, no crazy odors and all types of different stuffs going on when we already have enough going on when we're on our period. Get yourself some unscented, safe to use baby wipes for down there. I recommend using the "Huggies Natural Care Wipes"
Throughout the day or when you're at school or work, every two hours you're going to change your pad or tampon, make sure to get a baby wipe and clean yourself up just because throughout the day you can get allot of dried up blood down there and that causes allot of odor especially when it's sitting down all day.
Take showers:
Now this is another key key advice, top tier! This one is to making sure you're taking a shower 3 times a day! This is super important because think of it in the morning; You've been sleeping all night, your flow has been going on through all night, your junk is just crazy and you know that if you don't wake up, you're going to see all this blood and you're just not going to feel fresh anymore! (At least speaking for me and my experience.) So we want to be as clean as we possibly can. And to start my day, I like to take a hot fresh shower! If you're not washing down there in the morning when you're on your period (also when you are not on your period), baby, you're doing something super SUPER wrong! But yes, as I said, definitely take a shower in the morning, make sure you wash real real good and as I said in my last post, we are NOT putting any fragrant soap down there (only the Dove Sensitive Skin Unscented Soap Bar), because you know those things aren't really good for our vagina. Also if you have a detachable shower head, (like I said in the previous blog) take it and put it on a higher pressure, squat your legs open and put it down there. Let the water shoot up on your vagina, believe me, it's life-changing. Remember that our vagina is self-cleaning, it doesn't take much to just keep it fresh! But yes, rub the soap bar in your hands (NOT SPONGE) and we're not going all up in the hole, but on your labia, your lips in between, the spots that the blood can be dried up and can be trapped like on the inside parts of your skin. You need to make sure that you're getting and cleaning all that out because when you let stuff sticking around too long, the bacteria accumulates and it's not gonna be cute and it's not gonna smell good either!
Tip: DO NOT USE DOUCHE!
Douche is like a vinegar water rinse that people stick inside their vagina to rinse it out, like this one: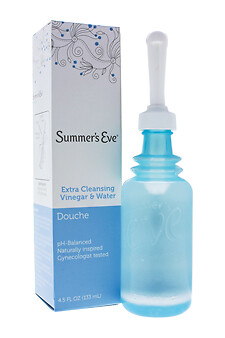 As I said, do NOT use this cause it'll make things harder and worst. Cause vinegar is acidic and like I've said in my last post, our vaginal pH is in between 3.8 and 4.5 which is moderately acidic! and The vinegar will only make it lower or smell bad!
Avoid eating too much sweets and junk food:
I know that when we are on our period, we get hella emotional and we just want our sweets, our cookies and our chocolates. That's totally okay, but you don't wanna indulge in that because believe it or not, sweets and sugary stuffs it actually makes your cramps and stuffs even WORSE. Your best bet is just to eat as clean as you can, as light as you can, you don't wanna indulge in that junk food and stuffs just because it's gonna be harder for your body to digest and then the cramps are just gonna intensify. But if you really want to be eating like that, which I don't judge you cause I know how it is! , I advise you to flush everything through with water. Water is gonna help your cramps, it's gonna help your stomach to be able to flush everything out and digest. It will also help your period go by quicker, your body will be able to get through your cycle a little bit easier and a little bit faster!
Wear comfy clothes:
My last piece of advice is to make sure that you're wearing more breathable underwear. I recommend cotton underwear and hangs underwear. You wouldn't want to be wearing no silk or satin underwear, no booty thongs and nothing like that, because truthfully you might just end up getting all messed up anyways, so I would just wear some underwear that I don't really care too much about but you know I do. But yea, as I said, wear cotton breathable underwear because we want our vagina to be able to breathe and give her a little bit of air, we don't want her to be feeling all trapped and all of that stuff!
Well beauties, this was all for this blog, I hope you liked it and I hope I gave you all useful information. Thank you for reading !
Don't forget to follow all my social medias so you don't miss any of my content! 🌸
WordPress💻: Blurryfacebygaby
Instagram🌸: Blurryfacebygaby
Pinterest📌: Blurryfacebygaby
Twitter🐦: Blurryfacebygaby